What is duvet cover?
  A duvet cover surrounds a duvet like an envelope. While duvets are usually white, their covers come in a nearly endless choice of colors and patterns. Duvet covers are sewn shut on three sides, but the fourth side closes with large buttons, ties or a zipper, so you can remove or insert the duvet easily. It's not essential to use a duvet cover, but most people like their decorative impact, plus they help keep the duvet clean.
  To help you choose the right duvet cover & set for your bedroom, we have created a comprehensive guide with expert tips on selecting the right material of duvet cover so you can enjoy a better night's rest.
  Different types of fabric can serve different purposes, so make sure you know what you're looking for before you buy. To help you decide which fabric is right for you, here's 6 fabrics commonly used for a variety of Duvet covers.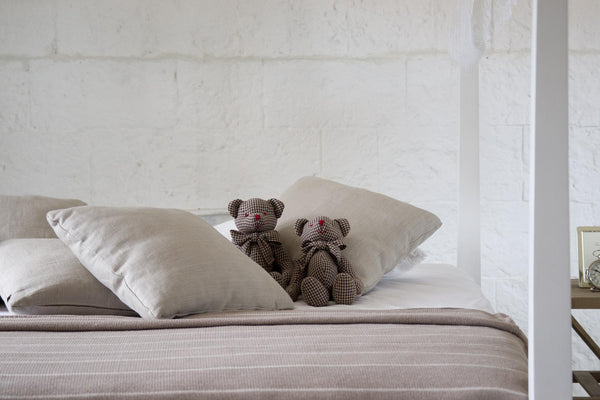 Polyester has excellent shape characteristics. Polyester yarns or fabrics can be used for a long time after being washed several times in use. Polyester is the simplest of the three synthetic fibers and is relatively inexpensive. In addition, it is durable, flexible, non-deformable, corrosion resistant, insulating, easy to clean and dry.
Similarly, polyester has its disadvantages. One is non-specific dyeing gene, which is difficult to dye, but the color fastness after dyeing is very good and it is not easy to fade. The other is poor melting resistance.The anti-melting property is poor. If it is exposed to holes such as Mars and soot, it is easy to form holes. Avoid wearing cigarettes and sparks when wearing. The hot base can decompose it.
Cotton is the world's favourite natural fibre. Its beauty, comfort, durability and versatility make it the perfect choice for clothing, bedding, textiles and many other products. As an industry,cotton supports the livelihoods of millions of people-both directly and indirectly-around the world.
Extra-Long Staple(ELS) Cotton
This longer fibre resists pulling, breaking, and tearing – resulting in garments that are incredibly resilient and keep their form to the last. There are also fewer short fibres, which is why garments made from longer fibres keep their shapes longer and are resistant to abrasion.
longer fibres also secure the strength and softness of garments, while shorter fibres produce yarns that are rougher and subject to pilling (when small balls of fibre become visible on a garment after use).
Color is another benefit: long staple cotton's fibre density leads to a uniform color, as fabrics absorb dye with a deep, long-lasting penetration. And items stay fresh for a longer, retaining their color better than those made from regular cottons. This also means that white shirts made with extra-long staple cotton stay whiter than conventional white shirts.
Ultimately, yarns made of ELS cotton create the most luxurious and highest quality fabrics – ensuring skin friendliness, softness, cooling, moisture absorption, breathability and above all durability. 
Just like how flannel is great for cold nights, linen is the best for even the most sweltering evening.
Like most fabrics, linen is machine washable. However, it can be prone to shrinking, so you'll probably want to hang linen duvet covers up to dry. After all, something like a bohemian duvet cover is meant to be wonderful to look at, not wrinkled and ill-fitting.
Flannel bedding is my favorite for cold winter nights. It's warm, soft and surprisingly breathable! It often is used in tartan or striped duvet covers because of the way the fabric is woven, so it's great for a classic look as well.
There are two kinds of flannel, one made of cotton and the other made of polyester fiber that have been woven and brushed to make them softer. But you should know that flannel has a tendency to get bunched up, so if you get a duvet cover made of flannel, be ready to pull your duvet into the cover's corners again to keep it looking and feeling even.
For an eco-friendly option for your bedroom, bamboo duvet covers are a perfect choice. The bamboo fibers are sustainably grown and processed to be incredibly soft, lightweight, and breathable, making the fabric an excellent choice for warm summer weather.
However, they require gentle washing and ironing as the material wrinkles easily. Like linen, the wrinkled texture of bamboo duvet cover fabric gives your bedroom a laid-back casual appearance.
ZHHhome provides hundreds of home textile products such as duvets, window curtains and curtains. We'll help you create the bedroom of your dreams. You can choose from cartoon, geometric, starry sky, boho, pastoral, embroidery, etc. to make your room more comfortable. Bring surprises and unique discoveries to your home.
Know more on www.zhhhome.com