It's surprising how important window treatments are in the interior design of a room. A space without shades or curtains just doesn't look complete and as soon as you add this last detail everything suddenly falls into place. This is especially true in the living room. Before making your decision on style and colour, there are several things that you should know about purchasing curtains.
Always Consider the Room
When choosing curtains for a living room, it's important to select some that have a welcoming and cheerful feel. At the same time, they should allow enough light to stream in through the windows.
A living room with a large French window may look best with layered curtains. For example, tri-layered curtains can have an outer-most layers made of a simple light coloured cloth while the middle and inner layers are made up of a lace curtain or a thick drape respectively.
For the bedroom, it's important to choose a curtain that creates an ambience that is conducive to sleeping and relaxing. While you want to be able to darken the room enough to sleep, you should avoid buying curtains with colors that are too dark as this can make the room appear smaller. Brightly coloured or animated curtains are great for a kid's bedroom as they provide that childish atmosphere while kids are young, but are easily switched when they grow out of that phase, while it can be costly to re-paint walls or remove wallpaper.
For the kitchen, while curtains can create homely atmosphere, you should also consider blinds as an alternative. This is because they are much easier to clean and will not stain if someone drops or spill anything on them accidentally, nor will they soak in the smells of foods. At the same time, they are not highly flammable.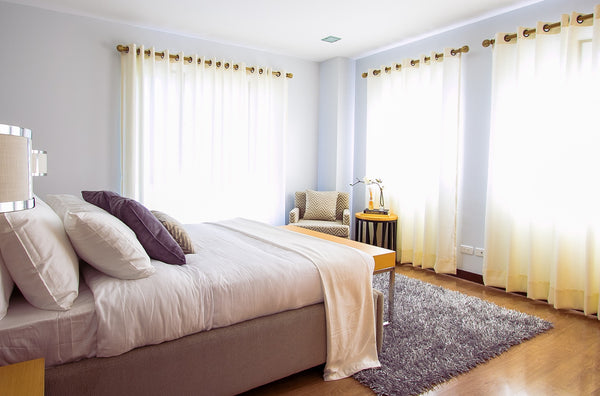 On Fabric and Privacy
One of the main considerations when choosing a curtain fabric is the purpose you'll need your window treatments to serve in a specific room: Do you need blackout curtains for the bedroom? Are you looking for your curtains to let natural light through? Do you need privacy from neighbors? Once you've figured this part out, you can start narrowing down your choices.
Most linen and cotton curtains come in varying degrees of opacity ranging from sheer, which will feel breezy and let natural light through while still providing a mild amount of privacy, to opaque, which provides more privacy and doesn't allow as much natural light to shine through. Velvet curtains are great to provide a natural blackout option, but most opaque curtains can also be doubled with a blackout lining for complete darkness.
Lining and No Lining
More often than not, we would recommend adding a lining to your curtains. This is because they have a number of benefits, such as protecting the curtain fabric along with furnishings and wood floors in the room. They also add volume and weight to the window treatment, making the curtain fuller and richer. The main benefit however, is that it makes curtains more energy efficient, keeping the room cool during summer and chasing the cold away during the winter.
Always Know the Density and Thread Count
Another important thing to know is the curtain's density. Curtains that have a thin density cannot effectively block sunlight because they are transparent. They are frequently used in conjunction with a much heavier curtain to provide privacy. A moderate density curtain can partially block out sunlight while a heavier density one will not allow any light to shine through. This is ideal for living rooms and bedrooms.
Other factors in choosing drapes
Consider all the windows together. For a room to look cohesive, all the drapes have to hang from the same height and be the same length.
Window height can vary. Just because they all look the same doesn't mean they are and even an inch difference is a big issue. After you measure all the sizes, be sure to measure how far each window is from the ceiling. Use the one closest to the ceiling as the measurement for all the window heights when it comes time to install the curtain hardware.
To measure the actual size of each window, measure from the top edge of the window molding to the window sill. For the horizontal dimension, measure from the outside of one molding to the other.
How To Measure Curtains
When it comes time to measure for the curtains, you'll have a few decisions to make:
Custom drapes or standard size curtains? If you are going to purchase custom living room drapes, then you will have endless options. These include how high to mount your hardware, the width of the finished drapes and the overall length. Also, unless you're making the drapes yourself, you'll have assistance from a drapery professional when you make a custom order. If you're working with standard sizes, you'll have to stick to the basic lengths and widths.
On Color and Pattern
While neutral solid curtains in a linen or velvet will always be the most timeless and classic, it's possible to introduce color and pattern if done well. For instance, a soft tone-on-tone stripe or floral pattern can add visual interest and romantic vibes to a sheer curtain. You can also go with a bold pattern, but only if you want this to become the focus of your room.
Another strategy favored by interior designers is to have the color of the curtains match the wall color. This works especially well with darker rooms with heavy velvet curtains. Remember, simpler and more seamless is always better when it comes to curtains.