If you are moving into your first apartment, first home, or just need a fresh start, I have the perfect list for you when it comes to setting up your bathroom! There are a ton of things you can do to make your bathroom look and feel special but here is a list of bathroom essentials to get you started.
Bath Towels
Towels need almost no introduction. They absorb water, help you dry your hair and keep you warm in the interim between hopping out of the shower and getting dressed. Virtually everyone uses bath towels, putting them at the top of our checklist for bathroom essentials.
Shower Curtain
When choosing your shower curtain, make sure you choose something that goes with your style and something that is functional. Every shower curtain should have a liner. The liner sits on the inside of your shower so that no water leaks out; the other side gives you privacy while you take a shower. Use shower curtain hooks to add even more detail to your curtains.
Bathroom Rug
A bathroom rug is one of those bath essentials that's often overlooked. While it doesn't necessarily safeguard your floors from water damage, it can provide softness underfoot, insulation, sound absorption and a decorative touch.
Storage Baskets and Bins
Woven baskets and canvas bins are just the thing for storing and organizing your bathroom items. You can place folded or rolled-up towels in them, extra toilet paper rolls, hot hair tools, guest toiletries and any other bathroom necessities you like.
Baskets and bins are great for under-the-sink storage, whether hidden behind cabinet doors or in plain sight. You can also place them on open shelves and put larger ones directly on the floor.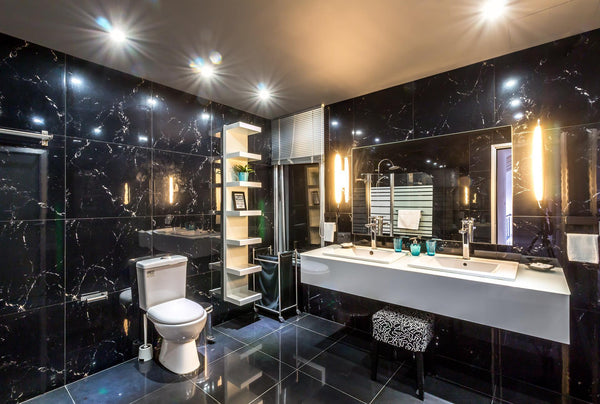 Something You Love
Lastly, make sure your bathroom has something you love. Whether it's a bath mat in your favorite color, a funny piece of art, or a vase full of fresh flowers. Having something you love in your bathroom will always give it that personal touch.